BigMapBlog's Store at Zazzle
A quick reminder:
These 40 maps are only a very small part of the 4,000+ image collection. If you're interested in seeing more maps in glorious high-resolution, head over to the main site and browse all maps.
Error: Products temporarily unavailable.

On Quality
By way of a quick summary: My prints are of very good quality. Most people selling digital prints of maps online are delivering a very poor product.

I make no claim to exclusivity on the source images for the prints on this site – they are, after all, in the public domain (and if you didn't notice, I'm actually, well, giving away the image files on this site). Any person can, and many people do, sell prints from these files. Most are horrible and I wouldn't hang them in a closet.

Not to give anyone any business ideas, but it's very possible for anyone to download a Library of Congress image, and without even so much as a glance, upload it to a print-on-demand print shop. The unlucky buyer gets an unoptimized, foggy, faded wreck of an image; usually printed on tissue paper. This business model covers, I'm guessing, 85% of those selling prints on the web.
Prints on this Site
Unlike almost every other seller of similar maps, prints ordered from Big Map Blog are:
Edited in a lossless (TIFF) format, and delivered to the printer in this lossless format.
Delivered to the printer in excruciatingly high resolution.
Printed at this same high resolution (Most 500dpi+, and none less than 350dpi).
Optimized by a cartographer who, lame as this sounds, loves and cares for these images, and wants them to look glorious.
In short, before you buy any print, ask the seller for a small image showing the full-resolution detail – any reputable seller of digital prints will be glad to comply. If he or she won't, or if it looks like hell... well, there's your answer.
Specifications
The image quality is discussed above and is unmatched. The base paper quality is in a heavyweight, matte finish, and is printed with UV-resistant archival ink. Thicker stock is available as are gloss finishes (if that kind of thing suits your tastes).
I'm glad to answer any question you might have. Feel free to
contact me
with whatever is on your mind.
Kind regards,
–the 59 King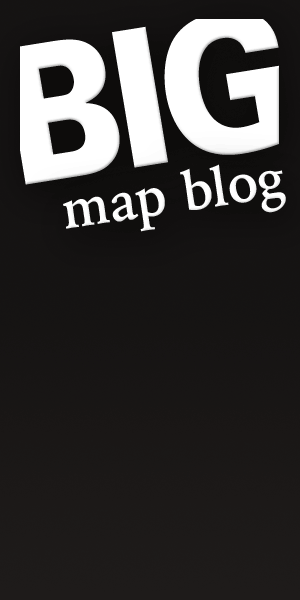 To request print optimization of an image not yet offered as a print, send me an email king@bigmapblog.com.
The process takes some time, and I'm rather busy, lately. I'll try to get back to you as quickly as I can.