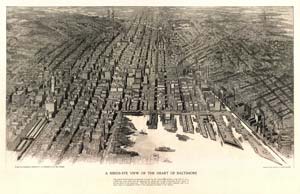 The map "
Birdseye View of the Heart of Baltimore, 1912
" is optimized and available for purchase, but it is slightly below the very high standards
Big Map Blog
places on imagery it uses for print.
Many of these shortcomings may amount to stylistic preferences, and it can still make a very handsome print, but I would rather be upfront about quality issues and avoid any potential surprises.
One thing to keep in mind is that smaller prints will mitigate some of these issues to some degree. You may want to explore purchasing the next size smaller if your wall allows it.
I'm quite happy to do this to help aid in transparency. If you'd like to buy the print, please visit our
Prints Page
, or go directly to the product page via the following link:
Heart of Baltimore, 1912 - Product Page
Known issues:
Not intended as a complete list.
Compression artifacts near ships in harbor (see below)
Minor moire/compression stipple in a handful of buildings
Inconstant, and possibly imperceptible, blur in the upper-left quarter
Archival retouching of type, resulting in a bit of an amateurish "W" character in the text at center bottom
Full-res depictions of problem areas:
Not intended to be comprehensive.